Systems for Beef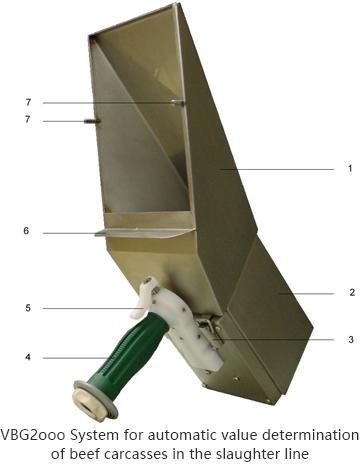 1.1 Purpose of the system
The VBG2000 is an image processing system for the automatic determination of the commercial value of beef carcass halves. The system is used on-line in the slaughter line. By a hand camera system (pistol) the cuts of the carcass halves are acquired and the image data is processed in a PC with special image processing software. To each cut the specific data, which describe the commercial data in detail, is determined and sent to the server program.
The server program makes the connection between the image processing system, the balance and the EDP in-house. It computes from the existing data the commercial value and makes the data available accordingly.
1.2 System components
The VBG2000 consists of the following components:
· Protection cabinet in high-grade steel design (1)
Contains the VBG2000 PC and the spare PC (11), the system monitor (12), and the video remote transmission (8) (VGA-splitter), as well as all wirings (5, 7)
· Hand camera system - pistol (2) connected over camera cable (4)
o Waterproof stainless steel housing with removable positional facility (nose)
o High resolution color camera
o LED control board with LED flash ring
o Replaceable handle with trigger
· Control Monitor (6)
o flat screen in the stainless steel housing inclusive video remote transmission
o serves the user for control of the carcass number and the taken pictures and/or their evaluation
· Spring course (not in schematic)
o for the attachment and balancing of the pistol
· balance or on-line connection to get data from hot balance
o supplies the weight of the carcass directly to the VBG2000-Server program
· Server-Program
o covers the server software for data communication, storing and evaluation of the data
· VBG2000-Program
o covers the image processing hard- and software for the acquisition and evaluation of the image data
· Reference and calibration body (9)
· External touch screen display (10)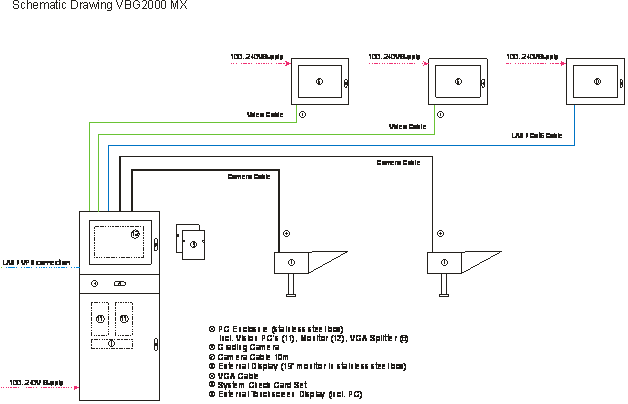 Fig. 1: Schematic structure
1.3 Main parameters, which are determined by the VBG2000
· Yield Grade
· Rib eye area
· Hypodermic fat thickness (PYG)
· Rib eye marbling
· Rib eye color
· Rib eye height and width
· Total area
· Fat/Meat rate and absolute areas
· further parameters (look 2.5.1)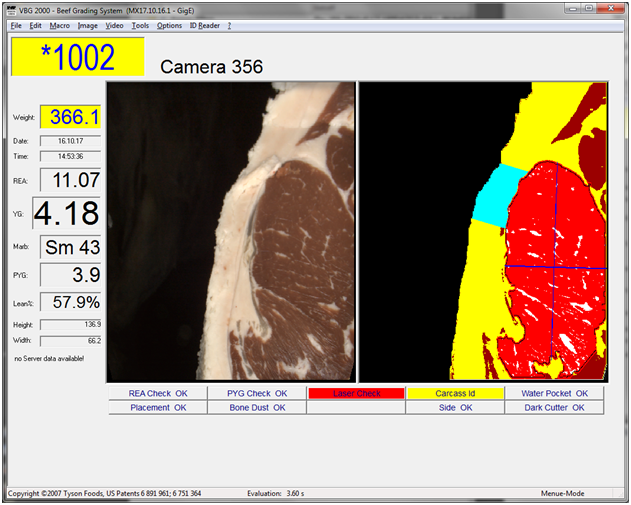 1.4 Integration of the VBG2000 system into the EDP in-house
The VBG2000 can be coupled by its modular structure with existing balances by means of the VBG2000 Server program. Furthermore the possibility of flexible data communication with the EDP in-house exists over a serial interface or over a network.
Application VBG2000